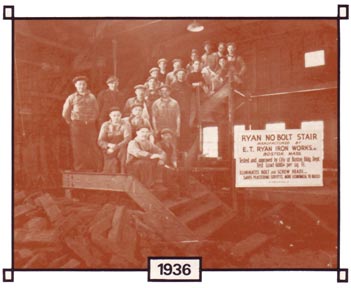 History
Ryan Iron Works is an old and trusted name in the New England Construction Community with a 98 year history of innovation and success.

Edward Thomas Ryan incorporated E.T. Ryan Iron Works in 1918 after buying an iron shop in Boston, Massachusetts that dated back to the 1890's. In 1936 when welding was still a new technology E.T. Ryan Iron Works was the first to patent a "No-Bolt" stair system. After two successful generations with the Ryan family at the helm the business was sold in the late 1960's to EG&G, a high technology conglomerate.

In 1973 steel fabrication and erection no longer fit the corporate objectives of EG&G. Then-chief estimator Paul Kelley and general manager Howard Shea saw an opportunity and bought the business. Although Ryan Iron Works had already established a reputation as a pioneer in stair construction and custom metal work, Paul Kelley and Howard Shea are responsible for the amazing growth and success that Ryan enjoys today. In 1984 when the company moved from Canton, MA to its new facility in Raynham, MA, "E.T." was dropped and Ryan Iron Works, Inc. became the official name.

In 2010, after more than 37 years of dedicated leadership, Paul Kelley and Howard Shea sold the business to their sons, Larry Kelley and John Shea. Under the new leadership Ryan Iron Works continues to build on its success by integrating the latest fabrication technologies with the innovative ideas of its workforce.